James from mjelly here – what an exciting week it's been with elections in the US, a massive interest rate cut in the UK and the mobile 2.0 conference going on in San Fransisco.  To end the week on a high we've got another Mobile 2.0 service for you here at Mobile Industry Review.  This week we are looking at one of the biggest mobile 2.0 plays out there – Nimbuzz!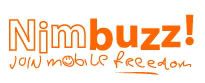 What is it?
Nimbuzz is a messaging, community, VoIP service and social network aggregator that uses both a downloadable mobile app and mobile web interface as well as a PC web service and client app. They were founded in 2006 and launched earlier this year in May 2008.  Nimbuzz integrates IM (MSN, ICQ etc), VoIP (Skype) as well as social services like Twitter, Facebook and Myspace. They are also rolling out widgets and apps which you can paste into your online profiles to let people contact you via the service, bridging the world of social networks and the mobile.
Nimbuzz are going for an ad-funded business model rather than looking for a share of calling revenue like some of its competitors so everything on the service is free for the end-user.   The aim seems to be to offer a free communications service across voice, messaging and social services.
Why is it interesting?
There are a lot of competitors offering similar services, like Mig33 for example, which we previously covered here at Mobile Industry Review.  What makes Nimbuzz different is that it is offering a multi-platform service (PC + mobile) but FOCUSING on mobile as the core platform.  This is different from the way that things usually work e.g. a PC-focused player might offer a mobile app or site as an additional platform but not as the core, OR a mobile player just focuses on that platform with no PC presence.
The other thing worth noting about Nimbuzz is the way in which they are
going about promoting the service and building their user base by partnering with major social networks.  They are due to announce a lot of new partnerships over the next few months which will provide them with distribution for Nimbuzz to the millions of users on the various Soc Nets.  No other mobile services provider has done anything like this so far and it will be interesting to see how successful it is as a way of marketing mobile applications.
Nimbuzz is yet another mobile 2.0 service that is getting real traction – it has built up a user base of 2 million users and is currently getting 10k sign-ups every day.  The service has users in 190 countries, which is driven by support for 11 languages (I remember Saul Klein (former Skype director) mentioning in 2005 that a big part of Skype's success was early support for multiple language so Nimbuzz looks like it's doing the right things).
In an environment where a lot of web 2.0 startups are making cut backs and struggling to raise new rounds of funding Nimbuzz has a massive war chest as a result of two major funding rounds of $10m (2007) and $15m (2008).  They also have some interesting investors – Mangrove Capital Partners for example were the original investors in Skype whilst Naspers is the South African media company that also funded the mobile service Mxit.
Nimbuzz is definitely one to watch in the world of Mobile 2.0 and it's great to see something so ambitious in the market.
Right that's it for this week – see you again next Friday 🙂
You can download Nimbuzz and find the Nimbuzz mobile site at mjelly, which is a directory of free mobile software and other stuff